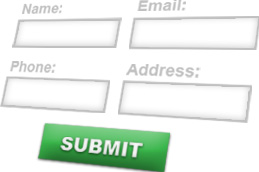 A lead capture might be the way to go to generate business on your website. We know that the shorter the application is on the lead page or "pop-up" they call it. The more likely people are to fill it out. 
The only thing that we suggest is that you have a good confirmation e-mail to respond to the potential lead. With a lead capture with about 4 fields is going to get filled out all day if you have the traffic to your website.
Pop ups are becoming more and more popular to generate leads we highly recommend them to any lead campaign
Here is a benefit of pop ups:
Short application
Tells your story
Free giveaways
Contact us below if you need help with creating a lead capture.
Open modal